Toyota Tacoma 2015-2018 Service Manual: Disposal
DISPOSAL
PROCEDURE
1. DISPOSE OF BRAKE BOOSTER ACCUMULATOR ASSEMBLY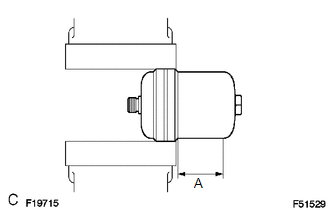 (a) Place the brake booster accumulator in a vise and cover it with a cloth.
(b) Slowly cut a hole on the brake booster accumulator side in the A portion shown in the illustration on the left. And discharge the gas and liquid inside.
NOTICE:
As gas may spray out, cover the brake booster accumulator with a cloth when performing the operation.
Work slowly and do not cut the hole too quickly or suddenly.
Wear protective glasses during the operation.
(c) When the outer body of the brake booster accumulator is cut, gas and liquid discharge.
HINT:
The gas is colorless, odorless and nonpoisonous nitrogen gas.
The liquid is brake fluid.
REASSEMBLY PROCEDURE 1. INSTALL BRAKE BOOSTER ACCUMULATOR ASSEMBLY (a) Place the brake booster pump in a vise with a cloth. (b) Install the brake booster accumulator pipe, compression spring and ...
INSTALLATION PROCEDURE 1. INSTALL HYDRAULIC BRAKE BOOSTER (a) Install a new brake booster gasket onto the hydraulic brake booster. (b) Install the hydraulic brake booster with the 4 nuts. Torque: ...
Other materials:
Installation
INSTALLATION CAUTION / NOTICE / HINT HINT: Use the same procedures for the RH side and LH side. The procedures listed below are for the LH side. When installing a roof drip side moulding clip, heat the vehicle body and clip using a heat light. When installing the moulding, ...
Image from Camera for Rear View Monitor is Abnormal
DESCRIPTION The display signal of the rear television camera assembly is transmitted to the radio and display receiver assembly*1 or navigation receiver assembly*2. *1: w/o Navigation System *2: w/ Navigation System WIRING DIAGRAM PROCEDURE 1. CONFIRM ...
Dtc Check / Clear
DTC CHECK / CLEAR 1. CHECK FOR DTC HINT: When using the Techstream with the engine switch off to troubleshoot: Connect the Techstream to the DLC3 and turn a courtesy light switch on and off at 1.5-second intervals until communication between the Techstream and vehicle begins. (a) Connect the ...