Toyota Tacoma 2015-2018 Service Manual: Removal
REMOVAL
PROCEDURE
1. REMOVE REAR WHEEL
2. DRAIN BRAKE FLUID
HINT:
Immediately wash off any brake fluid that comes into contact with any painted surfaces.
3. REMOVE REAR BRAKE DRUM SUB-ASSEMBLY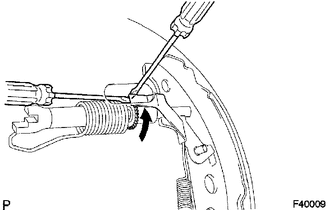 (a) Release the parking brake, and remove the rear brake drum.
If the rear brake drum cannot be removed easily, perform the following procedures.
(b) Remove the hole plug and insert a screwdriver through the hole into the backing plate, and hold the automatic adjusting lever away from the adjuster.
(c) Using another screwdriver, contract the brake shoe by turning the adjusting bolt.
(d) Remove the drum gasket from the rear brake drum.