Toyota Tacoma 2015-2018 Service Manual: Inspection
INSPECTION
PROCEDURE
1. INSPECT BRAKE DRUM INSIDE DIAMETER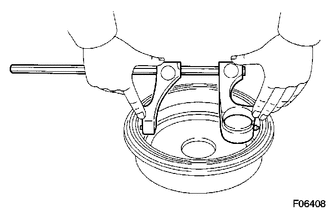 (a) Using a brake drum gauge or equivalent, measure the inside diameter of the drum.
Standard inside diameter:
254 mm (10.00 in.)
Maximum inside diameter:
256 mm (10.08 in.)
If the inside diameter is greater than the maximum, replace the brake drum.
2. INSPECT REAR DRUM BRAKE SHOE LINING THICKNESS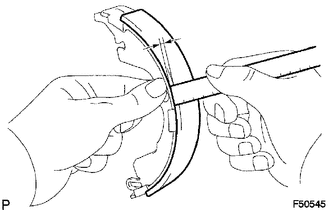 (a) Using a ruler, measure the thickness of the shoe lining.
Standard thickness:
5.0 mm (0.197 in.)
Minimum thickness:
1.0 mm (0.0394 in.)
If the lining thickness is the minimum value or less, or if there is any severe or uneven wear, replace the brake shoe.
3. INSPECT BRAKE DRUM AND REAR DRUM BRAKE SHOE LINING FOR PROPER CONTACT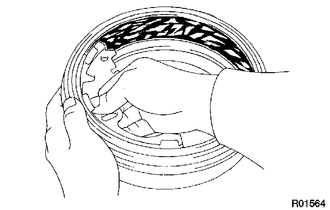 (a) Apply chalk to the inside surface of the drum, then grind the brake shoe lining for proper fitting.
If the contact between the drum and the shoe lining is improper, repair it using a brake shoe grinder or replace the brake shoe assembly.
4. INSPECT REAR WHEEL BRAKE CYLINDER
(a) Check the cylinder bore and piston for rust and scoring.