Toyota Tacoma Owners Manual: Outside rear view mirrors
Mirror angle can be adjusted.

Power-adjustable type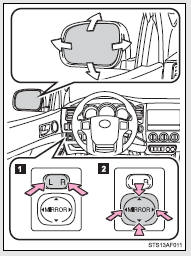 Select a mirror to adjust.
(L: left or R: right)

Adjust the mirror up, down, in or out using the switch.

Manually adjustable type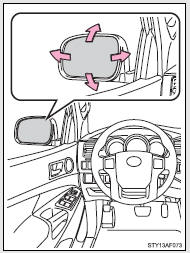 Adjust the mirror up, down, in or out by pushing the mirror surface.
Folding back the mirrors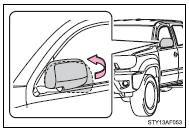 Push backward to fold the mirrors.
■Mirror operating conditions (vehicles with power-adjustable type only)
The engine switch is in the ACC or ON position.
CAUTION
■When driving the vehicle
Observe the following precautions while driving.
Failing to do so may result in loss of control of the vehicle and cause an accident, resulting in death or serious injury.
●Do not adjust the mirrors while driving.
●Do not drive with the mirrors folded back.
●Both the driver and passenger side mirrors must be extended and properly adjusted before driving.
NOTICE
■If ice should jam the mirror
Do not operate the control or scrape the mirror face. Use a spray de-icer to free the mirror.