Toyota Tacoma Owners Manual: Power outlets (12 VDC)
Please use as a power supply for electronic goods that use less than 12 VDC/10 A (power consumption of 120 W).
When using electronic goods, make sure that the power consumption of all the connected power outlets is less than 120 W.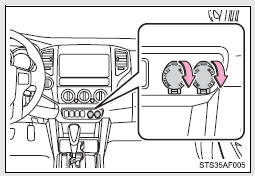 ■The power outlets can be used when
The engine switch is in the ACC or ON position.
NOTICE
■To avoid damaging the power outlets
Close the power outlets lid when not in use.
Foreign objects or liquids that enter the power outlets may cause a short circuit.
■To prevent the battery from being discharged
Do not use the power outlets longer than necessary when the engine is not running.