Toyota Tacoma 2015-2018 Service Manual: Inspection
INSPECTION
PROCEDURE
1. INSPECT RADIATOR CORE SUB-ASSEMBLY
Check the core plate for damage.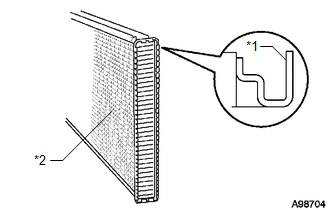 Text in Illustration
| | |
| --- | --- |
| *1 | Core Plate |
| *2 | Radiator Core |
If the sides of the core plate groove are deformed, it is impossible to reassemble the radiator tank. Therefore, first correct any deformation using pliers or a similar tool.
Water leakage will occur if the bottom of the core plate groove is damaged or dented. Repair or replace the core plate if necessary.
NOTICE:
The radiator assembly can only be caulked twice. After being caulked twice, the radiator assembly must be replaced.
REMOVAL PROCEDURE 1. REMOVE NO. 2 ENGINE UNDER COVER SUB-ASSEMBLY (w/ Off Road Package) 2. REMOVE NO. 1 ENGINE UNDER COVER SUB-ASSEMBLY 3. DRAIN ENGINE COOLANT 4. REMOVE RADIATOR GRILLE (See ...
INSTALLATION PROCEDURE 1. INSTALL RADIATOR ASSEMBLY (a) Engage the 2 hooks and temporarily install the radiator assembly to the radiator support sub-assembly. (b) Install the radiator assembly w ...
Other materials:
Parts Location
PARTS LOCATION ILLUSTRATION *A for Vacuum Brake Booster *B for Hydraulic Brake Booster *1 SKID CONTROL ECU (BRAKE ACTUATOR ASSEMBLY) *2 SKID CONTROL ECU (MASTER CYLINDER SOLENOID) *3 ...
Starter Relay Circuit Short to Battery (P061512)
DESCRIPTION While the engine is being cranked, positive battery voltage is applied to terminal STA of the ECM. If the ECM detects the starter control (STA) signal while the vehicle is being driven, it determines that there is a malfunction in the STA circuit. The ECM then illuminates the MIL ...
Vehicle Lift And Support Locations
VEHICLE LIFT AND SUPPORT LOCATIONS 1. NOTICE ABOUT VEHICLE CONDITION WHEN JACKING UP VEHICLE (a) The vehicle must be unloaded before jacking up / lifting up the vehicle. Never jack up / lift up a heavily loaded vehicle. (b) When removing heavy parts such as the engine and transmission, the cent ...