Toyota Tacoma 2015-2018 Service Manual: Diagnosis System
DIAGNOSIS SYSTEM
1. DESCRIPTION
(a) To check DTCs, connect the Techstream to the Data Link Connector 3 (DLC3) of the vehicle. The Techstream displays DTCs and freeze frame data. The DTCs and freeze frame data can be cleared with the Techstream (See page

).
2. NORMAL MODE AND CHECK MODE
(a) The diagnosis system operates in "normal mode" during normal vehicle use. In normal mode, "2 trip detection logic" is used to ensure accurate detection of malfunctions. "Check mode" is also available to technicians as an option. In check mode, "1 trip detection logic" is used for simulating malfunction symptoms and increasing the system's ability to detect malfunctions, including intermittent malfunctions.
3. 2 TRIP DETECTION LOGIC
(a) When a malfunction is first detected, the malfunction is stored as a pending DTC in the ECM memory (1st trip). If the same malfunction is detected during the next drive cycle, the DTC is stored (2nd trip).
4. FREEZE FRAME DATA
(a) The Techstream records freeze frame data in 5 different instances: 1) 3 times before the DTC is stored, 2) once when the DTC is stored, and 3) once after the DTC is stored. These sets of data can be used to simulate the vehicle condition around the time when the malfunction occurred. The data may help in finding the cause of the malfunction, or in judging if the DTC was caused by a temporary malfunction.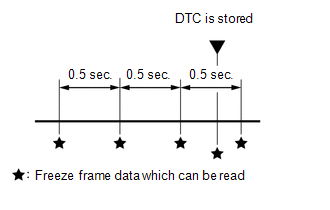 5. CHECK DATA LINK CONNECTOR 3 (DLC3)
(a) Check the DLC3 (See page

).