Toyota Tacoma Owners Manual: Clutch start cancel switch
The switch allows the vehicle to be driven out of difficult situations by cranking the engine with the clutch engaged.
Never use the switch for normal engine starting. Be sure to follow the starting procedure.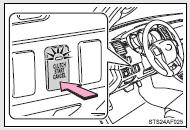 Press the CLUTCH START CANCEL switch to cancel the clutch start system when the engine switch is turned to the ON position.
The indicator comes on when the clutch start system is canceled.
The clutch start cancel switch is automatically turned off when the engine switch is turned off.
■Clutch start system
The system is designed to keep the starter motor from operating if the clutch pedal is not depressed all the way down.