Toyota Tacoma 2015-2018 Service Manual: Removal
REMOVAL
CAUTION / NOTICE / HINT
NOTICE:
Before starting the work, make sure that the ignition switch is off and depress the brake pedal more than 20 times.
As high pressure is applied to the No. 1 brake actuator tube, never deform it.
Do not turn the ignition switch to ON until the work is completed.
HINT:
When pressure in the accumulator is released, reaction force becomes lighter and stroke becomes longer.
PROCEDURE
1. DRAIN BRAKE FLUID
NOTICE:
Immediately wash off any brake fluid off immediately that comes into contact with a painted surface.
2. REMOVE LOWER NO. 1 INSTRUMENT PANEL AIRBAG ASSEMBLY
(See page


)
3. SEPARATE DRIVER SIDE JUNCTION BLOCK
4. SEPARATE MASTER CYLINDER PUSH ROD CLEVIS


5. REMOVE HYDRAULIC BRAKE BOOSTER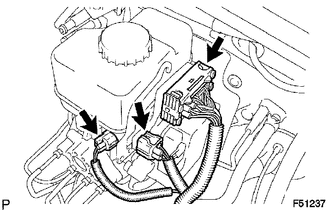 (a) Disconnect the 3 connectors from the hydraulic brake booster.
| | |
| --- | --- |
| (b) Using a union nut wrench, disconnect the 4 brake lines from the hydraulic brake booster. | |
(c) Use tags or labels to identify the place to reconnect each line.

Text in Illustration

| | |
| --- | --- |
| *a | to Right Rear Wheel |
| *b | to Right Fear Wheel |
| *c | to Left Front Wheel |
| *d | to Left Rear Wheel |
| | |
| --- | --- |
| (d) Remove the 4 nuts and pull out the hydraulic brake booster. | |
(e) Remove the brake booster gasket.
DISASSEMBLY PROCEDURE 1. REMOVE BRAKE ACTUATOR BRACKET NO. 1 (a) Using a hexagon wrench (5 mm), remove the screw and brake actuator bracket No. 1. (b) Using a screwdriver, remove th ...
INSPECTION PROCEDURE 1. INSPECT BRAKE BOOSTER PUMP ASSEMBLY (a) Connect the positive (+) lead from the battery to the red cable of the pump, and the negative (-) lead to the black cable. (b) C ...
Other materials:
Portable Player cannot be Operated Using In-vehicle Device or Track Information is not Displayed on In-vehicle Device
PROCEDURE 1. CHECK USING ANOTHER "Bluetooth" AUDIO COMPATIBLE VEHICLE OF SAME MODEL (a) Check if track information is displayed normally on another "Bluetooth" audio compatible vehicle of the same model. OK: Track information is displayed no ...
Precaution
PRECAUTION 1. PRECAUTIONS WHEN USING TECHSTREAM (a) When using the Techstream to troubleshoot the engine immobiliser system: Connect the Techstream to the DLC3 while the ignition switch is off, and turn a door courtesy light switch on and off at 1.5-second intervals until communication betwee ...
Tire Pressure Monitor ECU Communication Stop (C2179/79)
DESCRIPTION The main body ECU (multiplex network body ECU) sends signals to the tire pressure warning ECU and receiver via a direct line. DTC No. Detection Item DTC Detection Condition Trouble Area Note C2179/79 T ...