Toyota Tacoma 2015-2018 Service Manual: Operation Check
OPERATION CHECK
1. CHECK WIRELESS CHARGING SYSTEM OPERATION
(a) Turn the ignition switch ON (IG or ACC).
(b) Press the mobile wireless charger switch and check that the switch indicator light illuminates.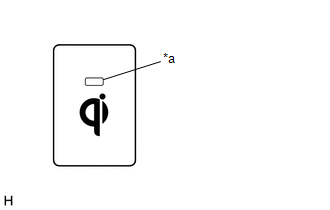 Text in Illustration
| | |
| --- | --- |
| *a | Switch Indicator Light |
(c) Place a rechargeable device on the charging area and check that the indicator light (amber) illuminates, indicating a charge is in progress.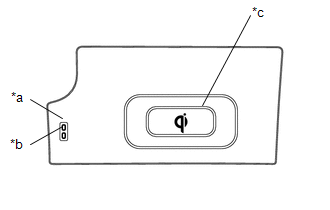 Text in Illustration
| | |
| --- | --- |
| *a | Indicator Light (Green) |
| *b | Indicator Light (Amber) |
| *c | Charging Area |
(d) Check that the indicator lights (amber and green) are illuminated when charging is complete.
HINT:
Some phones, cases or cover type wireless chargers may not cause the green indicator to illuminate even though it is fully charged.
Check the mobile device to confirm charge status.
HINT:
Please refer to precaution for the details (See page

).
CAUTION / NOTICE / HINT HINT: Use the following procedure to troubleshoot the wireless charging system. PROCEDURE 1. VEHICLE BROUGHT TO WORKSHOP ...
PROBLEM SYMPTOMS TABLE HINT: Use the table below to help determine the cause of problem symptoms. If multiple suspected areas are listed, the potential causes of the symptoms are lis ...
Other materials:
Precaution
PRECAUTION 1. The navigation system uses an SD card containing data such as map data. Text in Illustration *a SD Card 2. Precaution for removing the SD card NOTICE: The SD card contains map data and various programs for the navigation system. With ...
Diameter of the Tire is not Uniform (C1337)
DESCRIPTION The skid control ECU (brake actuator assembly) measures the speed of each wheel by receiving signals from the speed sensors. These signals are used for recognizing whether all 4 wheels are operating properly. Therefore, all wheel signals must indicate the same speed. D ...
Terminals Of Ecm
TERMINALS OF ECM 1. CHECK ECM HINT: The standard normal voltage between each pair of ECM terminals is shown in the table below. The appropriate conditions for checking each pair of terminals are also indicated. The result of checks should be compared with the standard normal voltage for t ...