Toyota Tacoma 2015-2018 Service Manual: Inspection
INSPECTION
PROCEDURE
1. INSPECT REAR AXLE SHAFT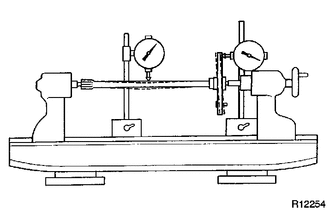 (a) Using a dial indicator, measure the runout of the shaft and flange.
Maximum runout:
Shaft runout: 1.5 mm (0.0591 in.)
Flange runout: 0.05 mm (0.0020 in.)
If the rear axle shaft or flange is damaged or worn, or the runout is greater than the maximum, replace the rear axle shaft.