Toyota Tacoma 2015-2018 Service Manual: Horn System
Parts Location
PARTS LOCATION
ILLUSTRATION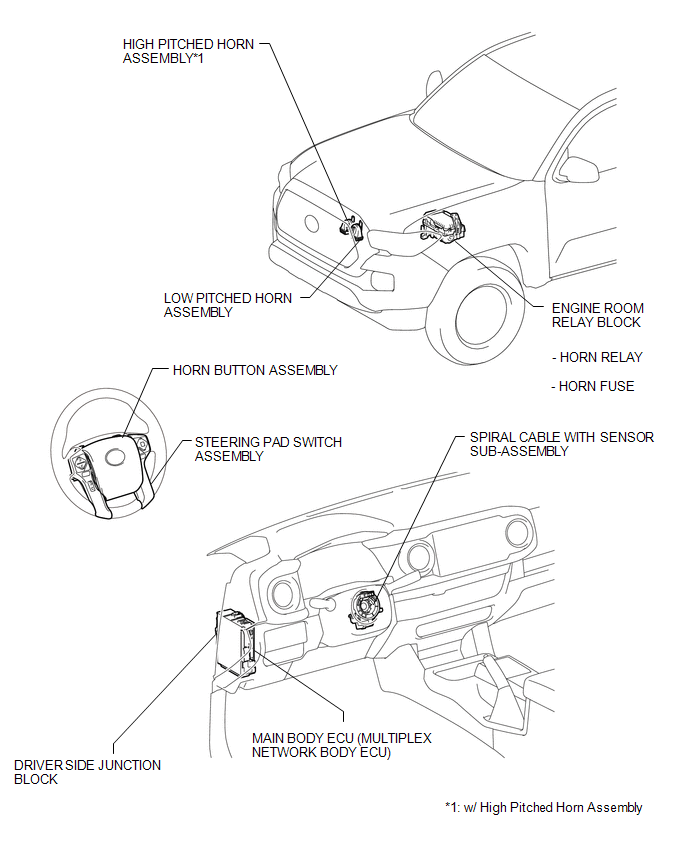 Precaution
PRECAUTION
1. IGNITION SWITCH EXPRESSIONS
(a) The type of ignition switch used on this model differs depending on the specifications of the vehicle. The expressions listed in the table below are used in this section.
| Expression | Ignition Switch (Position) | Engine Switch (Condition) |
| --- | --- | --- |
| Ignition Switch off | LOCK | Off (Lock) |
| Ignition Switch ACC | ACC | On (ACC) |
| Ignition Switch ON | ON | On (IG) |
| Engine Start | START | Start |
System Diagram
SYSTEM DIAGRAM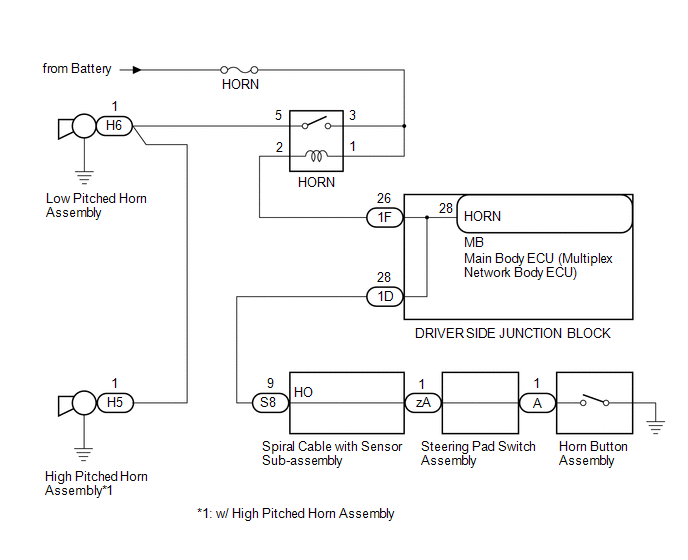 Data List / Active Test
DATA LIST / ACTIVE TEST
1. PERFORM ACTIVE TEST
HINT:
Using the Techstream to perform Active Tests allows relays, VSVs, actuators and other items to be operated without removing any parts. This non-intrusive functional inspection can be very useful because intermittent operation may be discovered before parts or wiring is disturbed. Performing Active Tests early in troubleshooting is one way to save diagnostic time. Data List information can be displayed while performing Active Tests.
(a) Connect the Techstream to the DLC3.
(b) Turn the ignition switch to ON.
(c) Turn the Techstream on.
(d) Enter the following menus: Body Electrical / Main Body / Active Test.
(e) Perform the Active Test according to the display on the Techstream.
Main Body
| Tester Display | Test Part | Control Range | Diagnostic Note |
| --- | --- | --- | --- |
| Vehicle Horn | Vehicle horns | ON/OFF | - |
Problem Symptoms Table
PROBLEM SYMPTOMS TABLE
HINT:
Use the table below to help determine the cause of problem symptoms. If multiple suspected areas are listed, the potential causes of the symptoms are listed in order of probability in the "Suspected Area" column of the table. Check each symptom by checking the suspected areas in the order they are listed. Replace parts as necessary.
HORN SYSTEM
Symptom

Suspected Area

See page

Horn does not sound

HORN fuse

-

HORN relay

Horn button assembly

-

Steering pad switch assembly

Spiral cable with sensor sub-assembly

Driver side junction block

-

Harness or connector

-

Horn blows all the time

HORN relay

Horn button assembly

-

Steering pad switch assembly

Spiral cable with sensor sub-assembly

Driver side junction block

-

Main body ECU (Multiplex network body ECU)

-

Harness or connector

-