Toyota Tacoma Owners Manual: AUTO LSD system
The AUTO LSD system aids traction by using the traction control system to control engine performance and braking when one of the rear wheels begins to spin.
The system should be used only when one of the rear wheels spinning occurs in a ditch or rough surface.
■ System operation
The system can be used on 2WD models and in 2WD mode on 4WD models.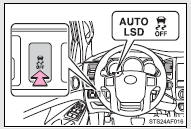 Press the VSC OFF switch to turn on the system.
At this time, the AUTO LSD and VSC OFF indicators will come on simultaneously.
To turn off the system, push the switch again.
If the engine is turned off while the AUTO LSD indicator is on and then restarted, the indicator will turn off automatically.
When the AUTO LSD system is operating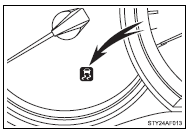 If the rear wheels spin, the slip indicator flashes to indicate that the AUTO LSD system has been controlled the spinning of the rear wheels.
■If the engine is turned off and restarted
The AUTO LSD system and the indicators are automatically turned off.
■Reactivation of the VSC system linked to vehicle speed
When the AUTO LSD system is turned on, the VSC system will turn on automatically if vehicle speed increases.
■If the brake system overheats
The system will cease operation and a buzzer will sound to alert the driver.
Stop the vehicle in a safe place. (There is no problem with continuing normal driving.) The system will be automatically restored after a short time.
CAUTION
■To avoid an accident
●Do not use the AUTO LSD system in conditions other than the above.
A much greater steering effort and more careful cornering control will be required.
●Do not drive with the AUTO LSD system continuously turned on.