Toyota Tacoma 2015-2018 Service Manual: Disposal
DISPOSAL
PROCEDURE
1. DISPOSE OF BRAKE BOOSTER ACCUMULATOR ASSEMBLY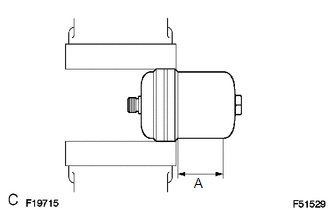 (a) Place the brake booster accumulator in a vise and cover it with a cloth.
(b) Slowly cut a hole on the brake booster accumulator side in the A portion shown in the illustration on the left. And discharge the gas and liquid inside.
NOTICE:
As gas may spray out, cover the brake booster accumulator with a cloth when performing the operation.
Work slowly and do not cut the hole too quickly or suddenly.
Wear protective glasses during the operation.
(c) When the outer body of the brake booster accumulator is cut, gas and liquid discharge.
HINT:
The gas is colorless, odorless and nonpoisonous nitrogen gas.
The liquid is brake fluid.
REASSEMBLY PROCEDURE 1. INSTALL BRAKE BOOSTER ACCUMULATOR ASSEMBLY (a) Place the brake booster pump in a vise with a cloth. (b) Install the brake booster accumulator pipe, compression spring and ...
INSTALLATION PROCEDURE 1. INSTALL HYDRAULIC BRAKE BOOSTER (a) Install a new brake booster gasket onto the hydraulic brake booster. (b) Install the hydraulic brake booster with the 4 nuts. Torque: ...
Other materials:
Initialization
INITIALIZATION NOTICE: Initialization can only be performed for vehicles with a tire pressure warning reset switch. If initialization is performed, the existing tire positions will be cleared, but will be automatically identified when the vehicle is driven at 37 km/h (23 mp ...
Disassembly
DISASSEMBLY PROCEDURE 1. REMOVE GENERATOR PULLEY (a) Mount the generator assembly in the vise between aluminum plates. NOTICE: Do not overtighten the vise. (b) Install SST 1-A to the generator pulley shaft. Text in Illustration *a Hold Turn ...
Front Wiper Rubber
Components COMPONENTS ILLUSTRATION Installation INSTALLATION PROCEDURE 1. INSTALL FRONT WIPER RUBBER (a) Install the 2 wiper rubber backing plates to the front wiper rubber. NOTICE: Align the groove of the front wiper rubber backing plate with the edg ...