Toyota Tacoma 2015-2018 Service Manual: Disposal
DISPOSAL
PROCEDURE
1. DISPOSE OF BRAKE BOOSTER ACCUMULATOR ASSEMBLY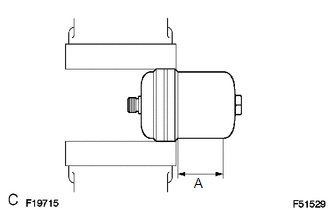 (a) Place the brake booster accumulator in a vise and cover it with a cloth.
(b) Slowly cut a hole on the brake booster accumulator side in the A portion shown in the illustration on the left. And discharge the gas and liquid inside.
NOTICE:
As gas may spray out, cover the brake booster accumulator with a cloth when performing the operation.
Work slowly and do not cut the hole too quickly or suddenly.
Wear protective glasses during the operation.
(c) When the outer body of the brake booster accumulator is cut, gas and liquid discharge.
HINT:
The gas is colorless, odorless and nonpoisonous nitrogen gas.
The liquid is brake fluid.
REASSEMBLY PROCEDURE 1. INSTALL BRAKE BOOSTER ACCUMULATOR ASSEMBLY (a) Place the brake booster pump in a vise with a cloth. (b) Install the brake booster accumulator pipe, compression spring and ...
INSTALLATION PROCEDURE 1. INSTALL HYDRAULIC BRAKE BOOSTER (a) Install a new brake booster gasket onto the hydraulic brake booster. (b) Install the hydraulic brake booster with the 4 nuts. Torque: ...
Other materials:
Problem Symptoms Table
PROBLEM SYMPTOMS TABLE HINT: Use the table below to help determine the cause of problem symptoms. If multiple suspected areas are listed, the potential causes of the symptoms are listed in order of probability in the "Suspected Area" column of the table. Check each symptom by check ...
Front Radar Sensor Region Code Mismatch (C1A0A)
DESCRIPTION When the destination information in the millimeter wave radar sensor assembly and forward recognition camera do not match, DTC C1A0A is stored. DTC No. Detection Item DTC Detection Condition Trouble Area MIL C1A0 ...
Inspection
INSPECTION PROCEDURE 1. INSPECT TIE ROD END SUB-ASSEMBLY (a) Flip the ball joint stud back and forth 5 times as shown in the illustration before installing the nut. (b) Using a torque wrench, turn the nut continuously at a rate of 2 to 4 seconds per turn and check the torque reading on the ...