Toyota Tacoma 2015-2018 Service Manual: Disposal
DISPOSAL
PROCEDURE
1. DISPOSE OF BRAKE BOOSTER ACCUMULATOR ASSEMBLY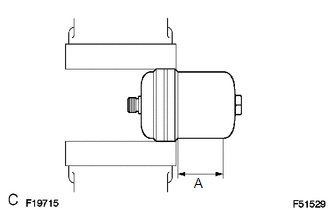 (a) Place the brake booster accumulator in a vise and cover it with a cloth.
(b) Slowly cut a hole on the brake booster accumulator side in the A portion shown in the illustration on the left. And discharge the gas and liquid inside.
NOTICE:
As gas may spray out, cover the brake booster accumulator with a cloth when performing the operation.
Work slowly and do not cut the hole too quickly or suddenly.
Wear protective glasses during the operation.
(c) When the outer body of the brake booster accumulator is cut, gas and liquid discharge.
HINT:
The gas is colorless, odorless and nonpoisonous nitrogen gas.
The liquid is brake fluid.
REASSEMBLY PROCEDURE 1. INSTALL BRAKE BOOSTER ACCUMULATOR ASSEMBLY (a) Place the brake booster pump in a vise with a cloth. (b) Install the brake booster accumulator pipe, compression spring and ...
INSTALLATION PROCEDURE 1. INSTALL HYDRAULIC BRAKE BOOSTER (a) Install a new brake booster gasket onto the hydraulic brake booster. (b) Install the hydraulic brake booster with the 4 nuts. Torque: ...
Other materials:
Transfer Case Rear Oil Seal
Components COMPONENTS ILLUSTRATION Replacement REPLACEMENT PROCEDURE 1. DRAIN TRANSFER OIL 2. REMOVE PROPELLER WITH CENTER BEARING SHAFT ASSEMBLY (See page ) 3. REMOVE OUTPUT SHAFT COMPANION FLANGE SUB-ASSEMBLY 4. REMOVE TRANSFER EXTENSION HOUSING TYPE T OIL SEAL ( ...
Disassembly
DISASSEMBLY PROCEDURE 1. REMOVE HOOD BULGE ASSEMBLY (w/ Hood Bulge) (a) Remove the 4 nuts. (b) Disengage the clip from back side of the hood panel to remove the hood bulge assembly together with the air intake guide. 2. REMOVE NO. 2 HOOD BU ...
Front Radar Sensor Incorrect Axial Gap (C1A11,C1A14)
DESCRIPTION When the system determines that the vehicle is driving straight ahead based on signals from the yaw rate and acceleration sensor (airbag sensor assembly), etc., the millimeter wave radar sensor assembly performs self-diagnosis to check if the sensor beam axis is misaligned. C1A11 ...