Toyota Tacoma 2015-2018 Service Manual: Disposal
DISPOSAL
PROCEDURE
1. DISPOSE OF BRAKE BOOSTER ACCUMULATOR ASSEMBLY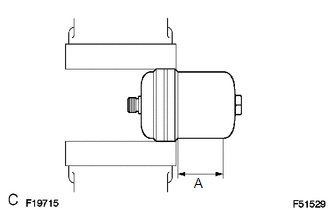 (a) Place the brake booster accumulator in a vise and cover it with a cloth.
(b) Slowly cut a hole on the brake booster accumulator side in the A portion shown in the illustration on the left. And discharge the gas and liquid inside.
NOTICE:
As gas may spray out, cover the brake booster accumulator with a cloth when performing the operation.
Work slowly and do not cut the hole too quickly or suddenly.
Wear protective glasses during the operation.
(c) When the outer body of the brake booster accumulator is cut, gas and liquid discharge.
HINT:
The gas is colorless, odorless and nonpoisonous nitrogen gas.
The liquid is brake fluid.
REASSEMBLY PROCEDURE 1. INSTALL BRAKE BOOSTER ACCUMULATOR ASSEMBLY (a) Place the brake booster pump in a vise with a cloth. (b) Install the brake booster accumulator pipe, compression spring and ...
INSTALLATION PROCEDURE 1. INSTALL HYDRAULIC BRAKE BOOSTER (a) Install a new brake booster gasket onto the hydraulic brake booster. (b) Install the hydraulic brake booster with the 4 nuts. Torque: ...
Other materials:
Data List / Active Test
DATA LIST / ACTIVE TEST HINT: By accessing the Data List displayed by the Techstream, you can check values of switches and sensors without removing any parts. Reading the Data List as the first step of troubleshooting is one method to shorten diagnostic time. 1. DATA LIST FOR OCCUPANT DETECTI ...
Accelerator Pedal
Components COMPONENTS ILLUSTRATION On-vehicle Inspection ON-VEHICLE INSPECTION PROCEDURE 1. INSPECT ACCELERATOR PEDAL SENSOR ASSEMBLY (a) Connect the Techstream to the DLC3. (b) Turn the ignition switch to ON. (c) Turn the Techstream on. (d) Enter the following menus: Powertrain / En ...
Removal
REMOVAL PROCEDURE 1. REMOVE NO. 2 ENGINE UNDER COVER SUB-ASSEMBLY (w/ Off Road Package) 2. REMOVE NO. 1 ENGINE UNDER COVER SUB-ASSEMBLY 3. DRAIN ENGINE COOLANT 4. REMOVE RADIATOR GRILLE (See page ) 5. REMOVE V-BANK COVER SUB-ASSEMBLY 6. REMOVE RADIATOR SUPPORT TO FRAME SEAL 7. R ...