Toyota Tacoma 2015-2018 Service Manual: Disposal
DISPOSAL
PROCEDURE
1. DISPOSE OF BRAKE BOOSTER ACCUMULATOR ASSEMBLY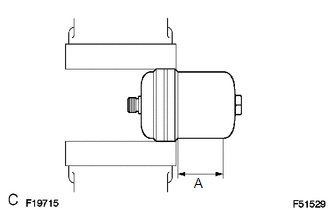 (a) Place the brake booster accumulator in a vise and cover it with a cloth.
(b) Slowly cut a hole on the brake booster accumulator side in the A portion shown in the illustration on the left. And discharge the gas and liquid inside.
NOTICE:
As gas may spray out, cover the brake booster accumulator with a cloth when performing the operation.
Work slowly and do not cut the hole too quickly or suddenly.
Wear protective glasses during the operation.
(c) When the outer body of the brake booster accumulator is cut, gas and liquid discharge.
HINT:
The gas is colorless, odorless and nonpoisonous nitrogen gas.
The liquid is brake fluid.
REASSEMBLY PROCEDURE 1. INSTALL BRAKE BOOSTER ACCUMULATOR ASSEMBLY (a) Place the brake booster pump in a vise with a cloth. (b) Install the brake booster accumulator pipe, compression spring and ...
INSTALLATION PROCEDURE 1. INSTALL HYDRAULIC BRAKE BOOSTER (a) Install a new brake booster gasket onto the hydraulic brake booster. (b) Install the hydraulic brake booster with the 4 nuts. Torque: ...
Other materials:
Ignition Switch
Components COMPONENTS ILLUSTRATION Removal REMOVAL PROCEDURE 1. REMOVE LOWER STEERING COLUMN COVER (a) Remove the 2 screws. (b) Disengage the 2 claws and remove the lower steering column cover. 2. REMOVE IGNITION OR STARTER SWITCH ASSEMBLY (a) Disconnect the connector. (b) Disen ...
Heater Relay
Inspection INSPECTION PROCEDURE 1. INSPECT HEATER RELAY (a) Check the resistance. (1) Using an ohmmeter, measure the resistance between each terminal. Standard: Tester Connection Specified Condition 3 - 4 ...
If your vehicle needs to be towed
If towing is necessary, we recommend having your vehicle towed by your Toyota dealer or a commercial towing service, using a lift-type truck or a flat bed truck. Use a safety chain system for all towing, and abide by all state/provincial and local laws. The wheels and axle on the ground must b ...