Toyota Tacoma 2015-2018 Service Manual: Manual Shifting Test
MANUAL SHIFTING TEST
1. PERFORM MANUAL SHIFTING TEST
HINT:
Using this test, it can be determined whether a problem is in an electrical circuit or if it is a mechanical problem in the transmission.
If any abnormalities are found in the following test, the problem is in the transmission itself.
(a) Disconnect the connector of the transmission wire.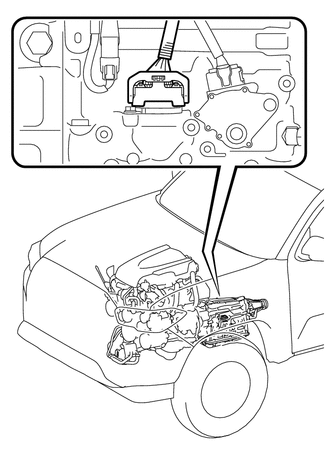 HINT:
It is possible to deactivate the electrical shift control by disconnecting the transmission wire. The gears can then be changed mechanically with the shift lever.
(b) Drive the vehicle with the transmission wire disconnected. Move the shift lever to each position to check whether the gear changes as shown in the table below.
| Shift Lever Position | Gear |
| --- | --- |
| P | P |
| R | R |
| D | 3rd |
(c) Connect the connector of the transmission wire.
(d) Clear the DTCs (See page

).
INITIALIZATION 1. RESET MEMORY NOTICE: Perform Reset Memory (AT initialization) when replacing the automatic transmission assembly, transmission valve body assembly or any of the shift ...
MONITOR DRIVE PATTERN 1. TEST MONITOR DRIVE PATTERN FOR ECT CAUTION: Perform this drive pattern on a level surface and strictly observe the posted speed limits and traffic laws while driving. HI ...
Other materials:
Brake Warning Light Remains ON
DESCRIPTION The BRAKE warning light comes on when brake fluid is insufficient, the parking brake is applied or the EBD is defective. WIRING DIAGRAM CAUTION / NOTICE / HINT NOTICE: When replacing the skid control ECU (master cylinder solenoid), perform calibration (See page ...
Customize Parameters
CUSTOMIZE PARAMETERS PROCEDURE 1. CUSTOMIZE WIRELESS DOOR LOCK CONTROL SYSTEM HINT: The following items can be customized. NOTICE: When the customer requests a change in a function, first make sure that the function can be customized. Be sure to make a note of the current setti ...
Purge Valve
Components COMPONENTS ILLUSTRATION Inspection INSPECTION PROCEDURE 1. INSPECT PURGE VSV (a) Measure the resistance according to the value(s) in the table below. Text in Illustration *a Component without harness connected (Purge VSV ...