Toyota Tacoma 2015-2018 Service Manual: Manual Shifting Test
MANUAL SHIFTING TEST
1. PERFORM MANUAL SHIFTING TEST
HINT:
Using this test, it can be determined whether a problem is in an electrical circuit or if it is a mechanical problem in the transmission.
If any abnormalities are found in the following test, the problem is in the transmission itself.
(a) Disconnect the connector of the transmission wire.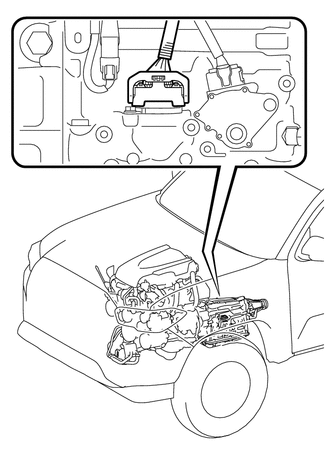 HINT:
It is possible to deactivate the electrical shift control by disconnecting the transmission wire. The gears can then be changed mechanically with the shift lever.
(b) Drive the vehicle with the transmission wire disconnected. Move the shift lever to each position to check whether the gear changes as shown in the table below.
| Shift Lever Position | Gear |
| --- | --- |
| P | P |
| R | R |
| D | 3rd |
(c) Connect the connector of the transmission wire.
(d) Clear the DTCs (See page

).
INITIALIZATION 1. RESET MEMORY NOTICE: Perform Reset Memory (AT initialization) when replacing the automatic transmission assembly, transmission valve body assembly or any of the shift ...
MONITOR DRIVE PATTERN 1. TEST MONITOR DRIVE PATTERN FOR ECT CAUTION: Perform this drive pattern on a level surface and strictly observe the posted speed limits and traffic laws while driving. HI ...
Other materials:
Acceleration Sensor Malfunction (C1420)
DESCRIPTION Refer to DTCs C1419 and C1435 (See page ). DTC Code DTC Detection Condition Trouble Area C1420 After the difference between GL1 and GL2 becomes 0.6 G or more with the vehicle stationary, the difference remains 0.4 G or m ...
Removal
REMOVAL PROCEDURE 1. PRECAUTION CAUTION: Be sure to read Precaution thoroughly before servicing (See page ). NOTICE: After turning the ignition switch off, waiting time may be required before disconnecting the cable from the negative (-) battery terminal. Therefore, make sure to read the ...
HD Radio Tuner Malfunction (B1551,B158D,B15A0,B15B0,B15B3,B15B4,B15B7)
DESCRIPTION These DTCs are stored when a malfunction occurs in the radio and display receiver assembly. DTC No. DTC Detection Condition Trouble Area B1551 When one of the conditions below is met: "HD Radio" tune ...