Toyota Tacoma 2015-2018 Service Manual: Manual Shifting Test
MANUAL SHIFTING TEST
1. PERFORM MANUAL SHIFTING TEST
HINT:
Using this test, it can be determined whether a problem is in an electrical circuit or if it is a mechanical problem in the transmission.
If any abnormalities are found in the following test, the problem is in the transmission itself.
(a) Disconnect the connector of the transmission wire.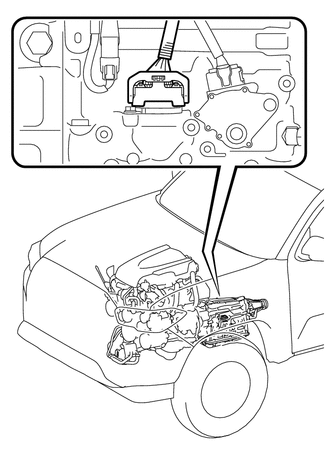 HINT:
It is possible to deactivate the electrical shift control by disconnecting the transmission wire. The gears can then be changed mechanically with the shift lever.
(b) Drive the vehicle with the transmission wire disconnected. Move the shift lever to each position to check whether the gear changes as shown in the table below.
| Shift Lever Position | Gear |
| --- | --- |
| P | P |
| R | R |
| D | 3rd |
(c) Connect the connector of the transmission wire.
(d) Clear the DTCs (See page

).
INITIALIZATION 1. RESET MEMORY NOTICE: Perform Reset Memory (AT initialization) when replacing the automatic transmission assembly, transmission valve body assembly or any of the shift ...
MONITOR DRIVE PATTERN 1. TEST MONITOR DRIVE PATTERN FOR ECT CAUTION: Perform this drive pattern on a level surface and strictly observe the posted speed limits and traffic laws while driving. HI ...
Other materials:
Unlock Warning Switch
Components COMPONENTS ILLUSTRATION Inspection INSPECTION PROCEDURE 1. INSPECT UNLOCK WARNING SWITCH ASSEMBLY (a) Check the resistance. (1) Measure the resistance according to the value(s) in the table below. Text in Illustration *a Com ...
Operation Check
OPERATION CHECK CHECK LANE DEPARTURE ALERT MAIN SWITCH (a) Check the lane departure alert main switch (steering pad switch assembly) on/off operation. (1) Turn the ignition switch to ON. (2) Confirm that the lane departure alert indicator (green) in the combination meter assembly illuminates ...
SRS airbags
The SRS airbags inflate when the vehicle is subjected to certain types of severe impacts that may cause significant injury to the occupants. They work together with the seat belts to help reduce the risk of death or serious injury. Front airbags Driver airbag/front passenger airbag Can he ...