Toyota Tacoma 2015-2018 Service Manual: Manual Shifting Test
MANUAL SHIFTING TEST
1. PERFORM MANUAL SHIFTING TEST
HINT:
Using this test, it can be determined whether a problem is in an electrical circuit or if it is a mechanical problem in the transmission.
If any abnormalities are found in the following test, the problem is in the transmission itself.
(a) Disconnect the connector of the transmission wire.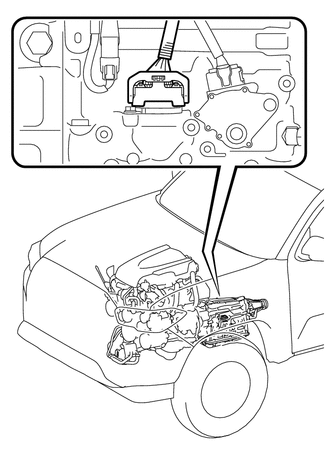 HINT:
It is possible to deactivate the electrical shift control by disconnecting the transmission wire. The gears can then be changed mechanically with the shift lever.
(b) Drive the vehicle with the transmission wire disconnected. Move the shift lever to each position to check whether the gear changes as shown in the table below.
| Shift Lever Position | Gear |
| --- | --- |
| P | P |
| R | R |
| D | 3rd |
(c) Connect the connector of the transmission wire.
(d) Clear the DTCs (See page

).
INITIALIZATION 1. RESET MEMORY NOTICE: Perform Reset Memory (AT initialization) when replacing the automatic transmission assembly, transmission valve body assembly or any of the shift ...
MONITOR DRIVE PATTERN 1. TEST MONITOR DRIVE PATTERN FOR ECT CAUTION: Perform this drive pattern on a level surface and strictly observe the posted speed limits and traffic laws while driving. HI ...
Other materials:
Passenger Side Buckle Switch Circuit Malfunction (B1771)
DESCRIPTION The passenger side buckle switch circuit consists of the occupant detection ECU and the front seat inner belt assembly RH. DTC B1771 is recorded when a malfunction is detected in the passenger side buckle switch circuit. Troubleshoot DTC B1771 first when DTCs B1771 and B1795 are o ...
Data List / Active Test
DATA LIST / ACTIVE TEST 1. DATA LIST HINT: Using the Techstream to read the Data List allows the values or states of switches, sensors, actuators and other items to be read without removing any parts. This non-intrusive inspection can be very useful because intermittent conditions or signals ...
How To Proceed With Troubleshooting
CAUTION / NOTICE / HINT HINT: Use the following procedure to troubleshoot the navigation system. *: Use the Techstream. PROCEDURE 1. VEHICLE BROUGHT TO WORKSHOP NEXT 2 ...