Toyota Tacoma 2015-2018 Service Manual: Brake
General Maintenance
GENERAL MAINTENANCE
PROCEDURE
1. INSPECT BRAKE LINE PIPES AND HOSES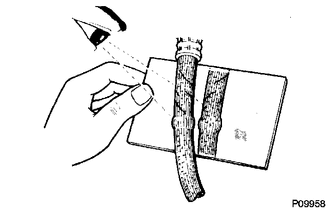 HINT:
Work in a well-lighted area. Turn the front wheels fully to the right or left before beginning.
(a) Check all the brake lines and hoses for:
Damage
Wear
Deformation
Cracks
Corrosion
Leaks
Bends
Twists
(b) Check all the clamps for tightness and the connections for leakage.
(c) Check if the hoses and lines are not near sharp edges, moving parts and the exhaust system.
(d) Check if the lines are installed pass through the center of the grommets.
2. INSPECT FRONT BRAKE PADS AND DISCS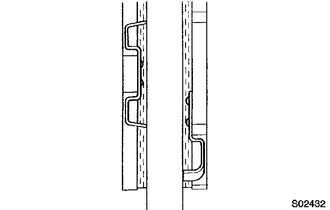 HINT:
(See page )
If a squealing or scraping noise is heard from the brake while driving, check the pad wear indicator.
If there are traces of the indicator contacting the disc rotor, the disc pad should be replaced.
3. INSPECT REAR BRAKE DRUM
HINT:
See page

4. INSPECT BRAKE FLUID
Fluid:
SAE J1703 or FMVSS No. 116 DOT3
HINT:
for Hydraulic Brake Booster (See page )
for Vacuum Brake Booster (See page )
General Maintenance GENERAL MAINTENANCE PROCEDURE 1. TIGHTEN BOLTS AND NUTS ON CHASSIS AND BODY (a) Tighten the bolts and nuts on the chassis parts listed below, if necessary. Front axle ...
General Maintenance GENERAL MAINTENANCE PROCEDURE 1. INSPECT STEERING LINKAGE (a) Check the steering wheel free play (See page ). (b) Check the steering linkage for looseness or damage. (1) ...
Other materials:
Inspection
INSPECTION PROCEDURE 1. INSPECT PARK/NEUTRAL POSITION SWITCH (a) Measure the resistance according to the value(s) in the table below. Text in Illustration *a Component without harness connected (Park/Neutral Position Switch) ...
HD Radio Tuner Malfunction (B1551,B158D,B15A0,B15B0,B15B3,B15B4,B15B7)
DESCRIPTION These DTCs are stored when a malfunction occurs in the radio and display receiver assembly. DTC No. DTC Detection Condition Trouble Area B1551 When one of the conditions below is met: "HD Radio" tune ...
Bleeding
BLEEDING CAUTION / NOTICE / HINT NOTICE: Wash off brake fluid immediately if it comes in contact with any painted surface. HINT: If any work is performed on the clutch system or if there is thought to be air in the clutch lines, bleed air from the clutch hydraulic system. PROCEDURE 1. FILL ...