Toyota Tacoma 2015-2018 Service Manual: Brake
General Maintenance
GENERAL MAINTENANCE
PROCEDURE
1. INSPECT BRAKE LINE PIPES AND HOSES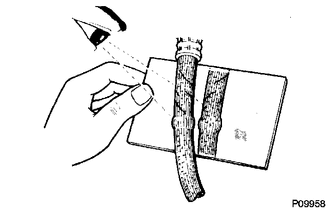 HINT:
Work in a well-lighted area. Turn the front wheels fully to the right or left before beginning.
(a) Check all the brake lines and hoses for:
Damage
Wear
Deformation
Cracks
Corrosion
Leaks
Bends
Twists
(b) Check all the clamps for tightness and the connections for leakage.
(c) Check if the hoses and lines are not near sharp edges, moving parts and the exhaust system.
(d) Check if the lines are installed pass through the center of the grommets.
2. INSPECT FRONT BRAKE PADS AND DISCS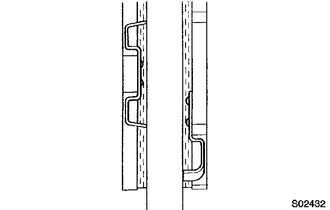 HINT:
(See page )
If a squealing or scraping noise is heard from the brake while driving, check the pad wear indicator.
If there are traces of the indicator contacting the disc rotor, the disc pad should be replaced.
3. INSPECT REAR BRAKE DRUM
HINT:
See page

4. INSPECT BRAKE FLUID
Fluid:
SAE J1703 or FMVSS No. 116 DOT3
HINT:
for Hydraulic Brake Booster (See page )
for Vacuum Brake Booster (See page )
General Maintenance GENERAL MAINTENANCE PROCEDURE 1. TIGHTEN BOLTS AND NUTS ON CHASSIS AND BODY (a) Tighten the bolts and nuts on the chassis parts listed below, if necessary. Front axle ...
General Maintenance GENERAL MAINTENANCE PROCEDURE 1. INSPECT STEERING LINKAGE (a) Check the steering wheel free play (See page ). (b) Check the steering linkage for looseness or damage. (1) ...
Other materials:
Reassembly
REASSEMBLY PROCEDURE 1. INSTALL BRAKE BOOSTER ACCUMULATOR ASSEMBLY (a) Place the brake booster pump in a vise with a cloth. (b) Install the brake booster accumulator pipe, compression spring and a new O-ring. NOTICE: Ensure that no foreign matter enters the pump. (c) Using a socket wrench ...
Inspection
INSPECTION PROCEDURE 1. INSPECT POWER WINDOW REGULATOR MOTOR ASSEMBLY (for Power Slide Type) *a Component without harness connected (Power Window Regulator Motor Assembly) *b Clockwise *c Counterclockwise ...
Low Power Supply Voltage Malfunction (C1241)
DESCRIPTION If there is a problem with the skid control ECU (master cylinder solenoid) power supply circuit, the skid control ECU outputs the DTC and prohibits operation under the fail-safe function. If the voltage supplied to terminal IG1 is not within the DTC detection threshold due to mal ...