Toyota Tacoma Owners Manual: Seat heaters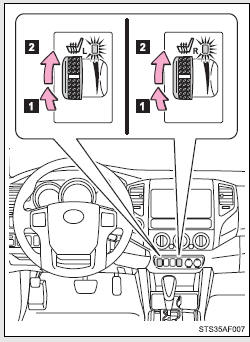 On
The indicator comes on.

Adjusts the seat temperature.
The further you turn the dial upward, the warmer the seat becomes.
■The seat heaters can be used when
The engine switch is in the ON position.
■When not in use
Turn the dial fully downward. The indicator turns off.
CAUTION
■Burns
●Use caution when seating the following persons in a seat with the seat heater on to avoid the possibility of burns: • Babies, small children, the elderly, the sick and the physically challenged
• Persons with sensitive skin
• Persons who are fatigued
• Persons who have taken alcohol or drugs that induce sleep (sleeping drugs, cold remedies, etc.)
●Do not cover the seat with anything when using the seat heater.
Using the seat heater with a blanket or cushion increases the temperature of the seat and may lead to overheating.
●Do not use the seat heater more than necessary.
Doing so may cause minor burns or overheating.
NOTICE
■To prevent seat heater damage
Do not put heavy objects that have an uneven surface on the seat and do not stick sharp objects (needles, nails, etc.) into the seat.
■To prevent battery discharge
Turn the seat heaters off when the engine is not running.