Opel Insignia B 2018-2023 Owners Manual: Interior Mirrors
Interior Rearview Mirrors
Adjust the rearview mirror for a clear view of the area behind your vehicle.
If equipped with OnStar, the vehicle may have three control buttons at the bottom of the mirror. Do not spray glass cleaner directly on the mirror. Use a soft towel dampened with water.
Automatic Dimming Rearview Mirror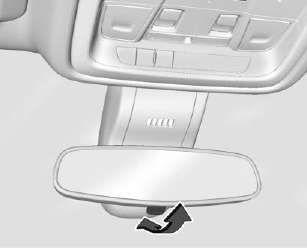 The rearview mirror automatically dims to reduce the glare of the headlamps from behind. This feature comes on when the vehicle is started.