Opel Insignia B 2018-2023 Owners Manual: Electrical System
Electrical System Overload
The vehicle has fuses and circuit breakers to protect against an electrical system overload.
When the current electrical load is too heavy, the circuit breaker opens and closes, protecting the circuit until the current load returns to normal or the problem is fixed. This greatly reduces the chance of circuit overload and fire caused by electrical problems.
Fuses and circuit breakers protect power devices in the vehicle.
Replace a bad fuse with a new one of the identical size and rating.
If there is a problem on the road and a fuse needs to be replaced, the same amperage fuse can be borrowed. Choose some feature of the vehicle that is not needed to use and replace it as soon as possible.
Headlamp Wiring
An electrical overload may cause the lamps to go on and off, or in some cases to remain off. Have the headlamp wiring checked right away if the lamps go on and off or remain off.
Windshield Wipers
If the wiper motor overheats due to heavy snow or ice, the windshield wipers will stop until the motor cools and will then restart.
Although the circuit is protected from electrical overload, overload due to heavy snow or ice may cause wiper linkage damage.
Always clear ice and heavy snow from the windshield before using the windshield wipers.
If the overload is caused by an electrical problem and not snow or ice, be sure to get it fixed.
Fuses and Circuit Breakers
The wiring circuits in the vehicle are protected from short circuits by a combination of fuses and circuit breakers. This greatly reduces the chance of damage caused by electrical problems.
Danger: Fuses and circuit breakers are marked with their ampere rating.
Do not exceed the specified amperage rating when replacing fuses and circuit breakers. Use of an oversized fuse or circuit breaker can result in a vehicle fire. You and others could be seriously injured or killed.
Fuses of the same amperage can be temporarily borrowed from another fuse location, if a fuse goes out. Replace the fuse as soon as possible.
To identify and check fuses, circuit breakers, and relays.
Engine Compartment Fuse Block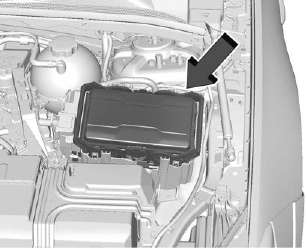 To remove the fuse block cover, squeeze the three retaining clips on the cover and lift it straight up.
Caution: Spilling liquid on any electrical component on the vehicle may damage it. Always keep the covers on any electrical component.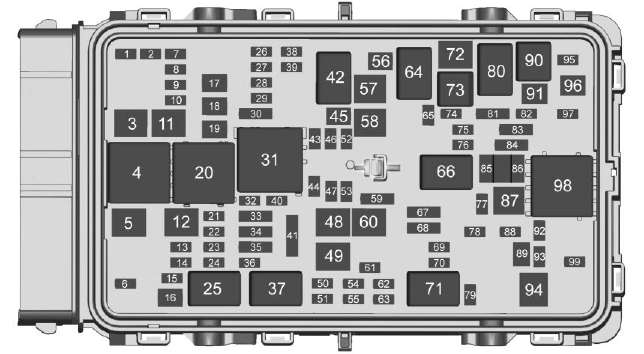 The vehicle may not be equipped with all of the fuses, relays, and features shown.
Fuses
1. -
2. -
3. ABS pump
5. -
6. Rear closure
7. Fog lamp
8. Memory control module
9. Heated windshield
10. Seat lumbar
11. DC DC converter 1
12. Rear window defogger
13. Heated mirrors
14. -
15. -
16. Front wipers
17. Passenger power seat
18. Sun shade
19. Driver power seat
21. Sunroof
22. Rear wiper
23. Auto headlamp leveling
24. -
26. Transmission control module/Ignition
27. Instrument panel/ Ignition
28. -
29. Rear vision camera/ Ventilation
30. Malfunction indicator lamp/Shift solenoid
32. Canister vent/Video processing module
33. Front heated seats
34. Rear heated seats
35. All wheel drive damping control
36. Fuel module
38. -
39. -
40. Steering column lock
41. -
43. Heated steering wheel
44. Headlamp leveling
45. -
46 Engine control module/Ignition
47. -
48. Cooling fan/DC DC converter 2
49. RDCM
50. -
51. -
52. -
53. -
54. -
55. -
56. Starter
57. -
58. -
59. Left LED lamps
60. Cooling fan
61. -
62. -
63. -
65 A/C HEV
67. -
68. -
69. Right LED lamp/ Right high-beam headlamps
70. Left high-beam headlamps
72. Starter pinion
74. -
75. Engine control module
76. Powertrain - off engine
77. -
78. Horn
79. Washer pump
81. Transmission control module/ Engine control module
82. -
83. Ignition coils
84. Coil
85. Shunt 60A
86. -
87. SAI fuel heater
88. Aeroshutter
89. -
91. -
92. TPIM motor generator/TPIM
93. Keyless entry control module
95. Water change air coolant pump
96. Fuel heater
97. -
99. -
Relays
4. -
20. Rear defogger
25. Front wiper control
31. Run/Crank
37. Front wiper speed
42. -
64. Starter motor
66. Powertrain
71. Right LED high beam
73. AC clutch
80. Starter pinion
90. Water change air coolant pump
94. -
98. Fuel heater
Instrument Panel Fuse Block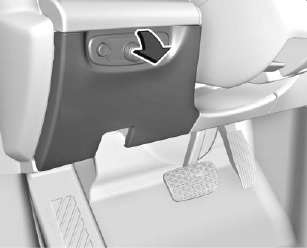 The instrument panel fuse block is in the instrument panel, on the driver side of the vehicle. To access the fuses, press in on the sides of the cover and pull to release it from the instrument panel.
Pull the panel toward you to release it from the hinges.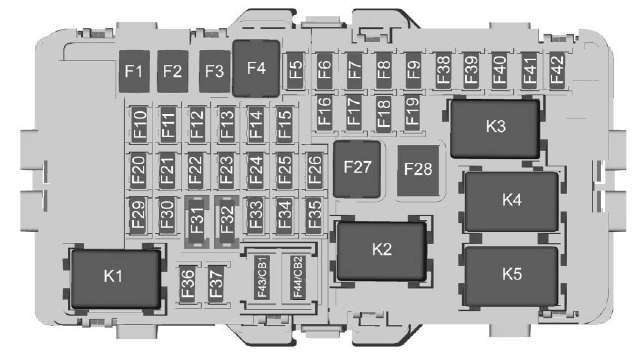 The vehicle may not be equipped with all of the fuses, relays, and features shown.
Fuses
F1. Left window
F2. Right window
F3. -
F4. HVAC blower
F5. Battery 2
F6. Electric steering column
F7. -
F8. Battery 3
F9. Engine control module/Battery
F10. Body control module 2 On/Off
F11. -
F12. -
F13. -
F14. -
F15. Transmission control module On/Off
F16. Amplifier
F17. -
F18. Battery 7
F19. -
F20. Battery 1
F21. Battery 4
F22. Battery 6
F23. Electric steering column lock
F24. Airbag sensing diagnostic module/ Passenger sensing module
F25. Diagnostic link
F26. -
F27. AC DC inverter
F28. -
F29. Body control module 8
F30. Overhead console
F31. Steering wheel control
F32. -
F33. HVAC
F34. Center gateway module
F35. Integrated chassis control module
F36. Charger
F37. Auxiliary power outlet
F38. OnStar
F39. Monitor
F40. Object detection
F41. Body control module 1 On/Off
F42. Radio
F43. Rear accessory power outlet
F44. Front accessory power outlet
Relays
K1. -
K2. Retained accessory power
K3. -
K4. -
K5. Logistics