Toyota Tacoma 2015-2018 Service Manual: Precaution
PRECAUTION
1. The navigation system uses an SD card containing data such as map data.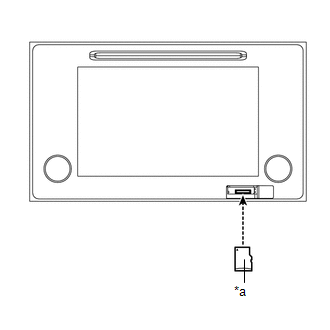 Text in Illustration
2. Precaution for removing the SD card
NOTICE:
The SD card contains map data and various programs for the navigation system.

Without the SD card inserted, the navigation system will not operate normally. Therefore, remove the SD card only when necessary, such as when updating the map data.

After removing the SD card, do not insert any other object into the SD card slot.
When inserting the SD card into the SD card slot, make sure that the SD card is free of foreign matter.
After inserting the SD card, make sure that it is securely inserted into the SD card slot.
(a) Before removing the SD card, make sure that the ignition switch is turned off.
3. Precaution for handling the SD card
NOTICE:
Do not touch the terminals with your hand or a metal object.
If a strong force is applied to the SD card, it may be damaged.
Do not leave the removed SD card in any of the following environments. If the SD card is affected adversely, it may result in a malfunction in the navigation system.

Places where static electricity or electronic noise is generated.
Places which are hot or humid.
Places where the SD card may be exposed to direct sunlight.
Places where condensation occurs.
Places which are prone to corrosion.

Do not use the SD card if the label has peeled off or someone has put a sticker or other label on the SD card.
PARTS LOCATION ILLUSTRATION ILLUSTRATION ILLUSTRATION ILLUSTRATION ...
Other materials:
Sound Signal Circuit between Radio Receiver and Stereo Jack Adapter
DESCRIPTION The No. 1 stereo jack adapter assembly sends the sound signal from an external device to the radio and display receiver assembly via this circuit. If there is an open or short in the circuit, sound cannot be heard from the speakers even if there is no malfunction in the radio and d ...
Cargo Light
Components COMPONENTS ILLUSTRATION Removal REMOVAL PROCEDURE 1. REMOVE ROOF HEADLINING ASSEMBLY for Double Cab: (See page ) for Access Cab: (See page ) 2. REMOVE CARGO LIGHT ASSEMBLY (CENTER STOP LIGHT ASSEMBLY) (a) Remove the 2 nuts. ...
Problem Symptoms Table
PROBLEM SYMPTOMS TABLE HINT: Use the table below to help determine the cause of problem symptoms. If multiple suspected areas are listed, the potential causes of the symptoms are listed in order of probability in the "Suspected Area" column of the table. Check each sy ...