Toyota Tacoma 2015-2018 Service Manual: Precaution
PRECAUTION
1. The navigation system uses an SD card containing data such as map data.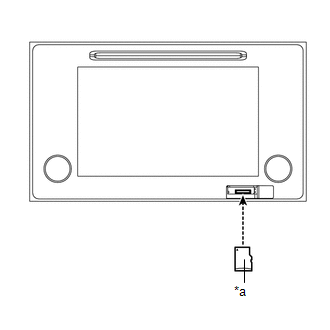 Text in Illustration
2. Precaution for removing the SD card
NOTICE:
The SD card contains map data and various programs for the navigation system.

Without the SD card inserted, the navigation system will not operate normally. Therefore, remove the SD card only when necessary, such as when updating the map data.

After removing the SD card, do not insert any other object into the SD card slot.
When inserting the SD card into the SD card slot, make sure that the SD card is free of foreign matter.
After inserting the SD card, make sure that it is securely inserted into the SD card slot.
(a) Before removing the SD card, make sure that the ignition switch is turned off.
3. Precaution for handling the SD card
NOTICE:
Do not touch the terminals with your hand or a metal object.
If a strong force is applied to the SD card, it may be damaged.
Do not leave the removed SD card in any of the following environments. If the SD card is affected adversely, it may result in a malfunction in the navigation system.

Places where static electricity or electronic noise is generated.
Places which are hot or humid.
Places where the SD card may be exposed to direct sunlight.
Places where condensation occurs.
Places which are prone to corrosion.

Do not use the SD card if the label has peeled off or someone has put a sticker or other label on the SD card.
PARTS LOCATION ILLUSTRATION ILLUSTRATION ILLUSTRATION ILLUSTRATION ...
Other materials:
System Description
SYSTEM DESCRIPTION 1. LIN COMMUNICATION SYSTEM DESCRIPTION The LIN communication system is used for communication between the components in the tables below. If communication cannot be performed through LIN communication because of an open in the communication lines or other reasons, the maste ...
Terminals Of Ecu
TERMINALS OF ECU 1. CHECK MAIN BODY ECU (MULTIPLEX NETWORK BODY ECU) AND DRIVER SIDE JUNCTION BLOCK (a) Remove the main body ECU (multiplex network body ECU) from the driver side junction block (See page ). (b) Disconnect the 1D driver side junction block connector. (c) Measure the voltag ...
System Diagram
SYSTEM DIAGRAM Circuit Description Component Outline Steering Lock ECU (Steering Lock Actuator or UPR Bracket Assembly) The steering is locked and unlocked by communicating with the certification ECU (smart key ECU assembly) via L ...