Toyota Tacoma Owners Manual: Moving passenger's seat for rear seat entry (if equipped)
Lift the seatback angle adjusting lever or press the pedal behind the seatback. The seat will slide forward.
Move the seat to the front-most position.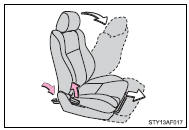 ■ After passengers are in the vehicle
Lift the seatback and return the seat until it locks.