Toyota Tacoma 2015-2018 Service Manual: Manual Shifting Test
MANUAL SHIFTING TEST
1. PERFORM MANUAL SHIFTING TEST
HINT:
Using this test, it can be determined whether a problem is in an electrical circuit or if it is a mechanical problem in the transmission.
If any abnormalities are found in the following test, the problem is in the transmission itself.
(a) Disconnect the connector of the transmission wire.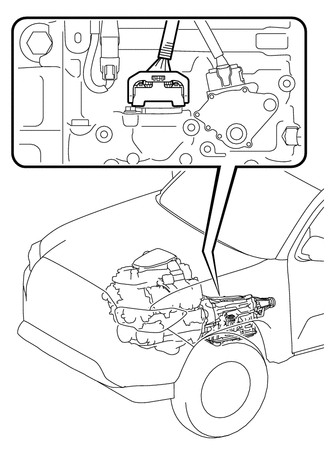 HINT:
It is possible to deactivate the electrical shift control by disconnecting the transmission wire. The gears can then be changed mechanically with the shift lever.
(b) Drive the vehicle with the transmission wire disconnected. Move the shift lever to each position to check whether the gear changes as shown in the table below.
| Shift Lever Position | Gear |
| --- | --- |
| P | P |
| R | R |
| D | 3rd |
(c) Connect the connector of the transmission wire.
(d) Clear the DTCs (See page

).
INITIALIZATION 1. RESET MEMORY NOTICE: Perform Reset Memory (AT initialization) when replacing the automatic transmission assembly, transmission valve body assembly or any of the shift ...
MONITOR DRIVE PATTERN 1. TEST MONITOR DRIVE PATTERN FOR ECT CAUTION: Perform this drive pattern on a level surface and strictly observe the posted speed limits and traffic laws while driving. HI ...
Other materials:
Engine (ignition) switch
■ Engine switch LOCK The steering wheel is locked and the key can be removed. (Vehicles with an automatic transmission: The key can be removed only when the shift lever is in P.) ACC Some electrical components such as the audio system can be used. ON All electrical components can ...
Power outlets (12 VDC)
Please use as a power supply for electronic goods that use less than 12 VDC/10 A (power consumption of 120 W). When using electronic goods, make sure that the power consumption of all the connected power outlets is less than 120 W. ■The power outlets can be used when The engine switch ...
Installation
INSTALLATION CAUTION / NOTICE / HINT HINT: Use the same procedure for both the LH and RH sides. The procedure described below is for the LH side. PROCEDURE 1. INSTALL FOG LAMP ASSEMBLY (a) Engage the 2 guides to install the fog light assembly. (b) Install the screw. (c) Con ...